5 Sins of Web Writing
Common Web Writing "Sins" That Should Never Happen on Your Website
Some clients treat professional web copywriting services as an afterthought in the web design process. For many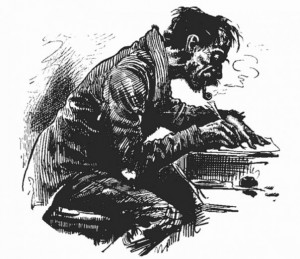 clients, the skills required to create riveting web graphics, or to program intuitive functionality seem like magic, or brain surgery, or magic brain surgery. But Writing? Everybody can write! So, that's the area where they try to save a few hundred bucks. You end up with a beautiful, functional site that reads like a service manual, and contains a laundry list of web copy sins. Sins like:
Web Writing Sin #1: Rehashing Existing Copy
Why pay for fresh web writing when you have all of these brochures lying around? Well, because web writing is just different. It is meant to be more concise and more quickly absorbed, because we read web copy differently than print.
Imagine your customer holding your brochure in one hand. Maybe he has your competitor's brochure in the other hand. There might be a third on the table in front of him. Contrast that with the MILLIONS of choices available to your customer in the web.
The more choices he has, the less time he will spend studying each one. So, if you are halfway down the web page, and you're just getting to the part when Dad took over the company from Grandpa Bob…your typical web reader is long gone.
Web Writing Sin #2: Selling Your Awesomeness Instead of the Product:
This is a mistake of content and tone that seems to only happen to very successful businesses. Once they come to dominate the entire tri-county widget market, they tend to lapse into a kind of marketing shorthand. Without explaining the benefits, or even bothering to pitch to the potential customer, their web messaging tends to come across as "we're awesome…join our team."
Instead of assuming that the reasons for your success are obvious, and that the customer is dying for an invitation to bask in your glow, take a step back. Reflect on the components of your past success; most likely, the ways you serve the customer better than the other guy. Then present those ideas as the benefits the customer will enjoy when THEY invite YOU to be their vendor.
Web Writing Sin #3: Selling Features Instead of Benefits
This is closely related to the previous notion. Your patented process is 20% more awesome than your competitor's? Congratulations…but what does it mean to the customer? Definitely tout your features, but never assume that the benefits are obvious to the reader. If it means more value for the dollar, a quicker return on investment, or it simply tastes great and is less filling, make sure to clearly state the benefits in terms that matter to the potential customer.
Web Writing Sin #4: Choosing English over Keywords
Keyword frequency is a necessary evil in web writing, and sometimes it takes a professional to inflict the linguistic damage necessary for good SEO.
SEO has altered the way information is presented on the page. To a language purist devoted to the Queen's English, the results aren't necessarily positive. In the real world, we use pronouns…in the web world, we don't. Words like us, we and our become Tri-State Industrial Widget Company. You find yourself placing "industrial widget" in front of commonly abbreviated concepts like market, manufacturer, customer, sales and service, and so on. Henry David Thoreau said to "Simplify, simplify." Thoreau also wrote crappy web copy.
Web Writing Sin #5: Not Going Pro!
Whether it's in helping you see your value to the customer in a new way, asking the stupid questions others are afraid to ask, or in, you know, just writing real good, a professional web copywriter can add real value to your web presence. Truly, it's a corner you don't want to cut!