Internet Marketing Positively Impacts Rock Hill Medical Group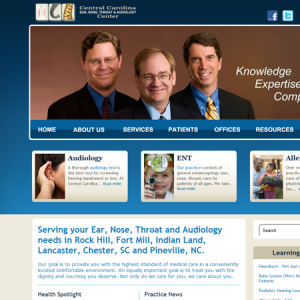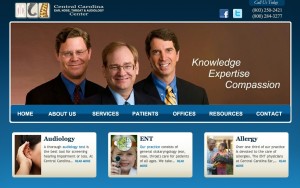 Overview
Central Carolina Ear, Nose, Throat & Audiology Center (CCENTA) has grown from a one man practice to a group of three otolaryngologists over the past four years. Office locations have expanded as well. CCENTA's growth is partly in response to the growing population in and around Rock Hill, SC. The experienced and personal care provided by this group of board certified surgeons and their professional audiology, allergy and medical support staff has fostered much of their growth through word-of-mouth.
About Central Carolina Ear, Nose Throat & Audiology Center
Founded in 1988 by Dr. Greg S. Parsons, the Rock Hill based ENT practice is dedicated to providing expert care to patients in York, Chester & Lancaster Counties. Today, the thriving practice has expanded into a partnership of three board certified Otolaryngologists. Offices have also expanded to include Fort Mill. Surgical privileges now include CMC in Pineville, NC. Dr. Greg Parsons, Dr. Timothy Kelly and Dr. Christopher Jones dedicate themselves each day to caring for the ear, nose & throat needs of their patients. Staffed with licensed audiologists and allergy technicians, Central Carolina Ear, Nose, Throat & Audiology Center continues to grow as a premiere medical specialty practice.
Nature of the Situation
In the past, a good doctor would become busy through referrals and word-of-mouth. Today, while referrals and patient satisfaction remain the backbone of medical practices, the Internet has become the go to resource for many who are seeking medical information and services. Prior to launching their website in 2011, Central Carolina Ear, Nose, Throat & Audiology Center (CCENTA) targeted their advertising to local magazines, newspapers and phonebooks with occasional appearances at various street fairs. CCENTA, with its recent expansion from one to three ENT practitioners, was looking for opportunities to reach a broader audience. They new the area they served was growing and they knew they provided a quality product: knowledgeable and compassionate patient care. Effectively targeting a larger (growing) population was proving to be a challenge. The new website designed by RevenFlo Web Team was becoming a successful marketing tool but finding CCENTA on the Internet took a bit of searching.
Nature of the Solution
With the launch of their website, CCENTA began to hear new patients say with increased frequency "I found you on the Internet". Both new and existing patients began commenting on the informative nature of the new website. The website was becoming a successful marketing tool but finding it was not always easy. To improve their Internet ranking in searches —thereby targeting more potential patients in more areas— RevenFlo recommended Pay Per Click Advertising (PPC) to enhance Search Engine Optimization (SEO). The group reviewed annual advertising dollars and decided to earmark a portion to PPC on a trial basis. The target market included Rock Hill, Fort Mill, Lancaster and Chester, SC, as well as Pineville, NC.
Results
Five months into Pay Per Click advertising and CCENTA is realizing an increase in new patients. SEO coupled with PPC has improved the groups presence in the marketplace. In targeted areas, CCENTA places 1st or 2nd in Internet searches. In the Pineville, NC, market Central Carolina Ear, Nose, Throat & Audiology Center is ranking above a large, established Charlotte based ENT practice. Call capture technology (trackable phone number) was included on CCENTA's website prior to it going live. Monthly phone logs of call capture show a 70% increase of new calls over the past five months. Several factors attribute to this increase such as the hard work and dedication of CCENTA physicians and staff. Search Engine Optimization and Pay Per Click advertising are marketing tools that enable this well-respected medical practice to market more effectively and create a dominance in new areas. RevenFlo Web Team is honored to work with Central Carolina Ear, Nose, Throat & Audiology Center and to help them realize greater successes from their daily dedication to compassionate patient care.