Media-WRHI Radio Fort Mill, SC-New Website Build WRHI.com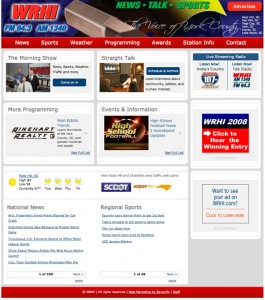 We are proud to launch the new WRHI.com:
The new WRHI.com breaks the current mold of how radio stations use the Web. Along with audio streaming, the site features audio content from original WRHI programming, organized into individual blogs for easy browsing, selection, and listening. The site also features syndicated content from such media partners as Fox News, ESPN, and the Channel 9 Eyewitness News. Interactive features include online listening widgets, commenting, sharing, podcasting, and more. (View Site)
The site is developed in an open source content management system and functions as a web application (allowing WRHI staff, as well as visitors, to use the site as a tool). WRHI proves again and again to be dedicated to excellence and to staying in front of the pack.