Seven Necessary Skill Sets for Effective Internet Marketing
RevenFlo  Web Team strategically manages  teams of contracted web professionals for our clients, and in doing so we find there are 7 consistent skill sets represented in such work.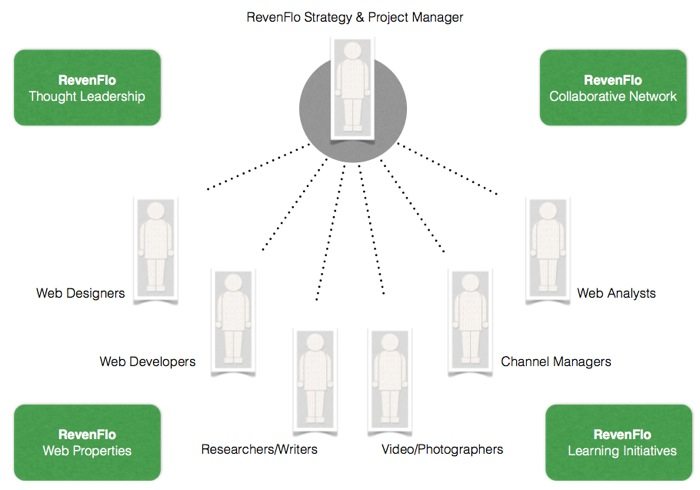 Strategy/Project Management
Web Design
Researcher/Writing
Video/Photography
Channel Management
Web Analyst
RevenFlo provides all seven skill sets through a contracted team, thus providing a robust internet marketing department without the cost of infrastructure.
Any endeavor in internet marketing or communications comes down to people, especially since the cost of technology has fallen through the floor. It is the strategic use of that technology that is the true work of Internet Marketing. Our Web Teams provide Internet Marketing solutions to a wide range of organizations – public sector and private sector organizations, profit and non-profit organizations, mid-market as well as small business. The strategic and agile management of creative and technically skilled web teams is a role relevant to just about any organization these days.
What does Web-based initiatives and programs may look like?
Projects – which are scoped, finite, and based on a deliverable (like a website, or app).
Programs – which are monthly cycles of marketing activity.
Web Teams – which equal staff-like access to project managers equipped with a full array of web skills, tools, and methodologies.