Internet Marketing for Urgent Care at Baxter Village, Fort Mill SC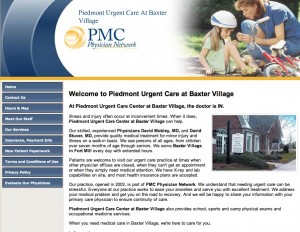 Piedmont Urgent Care Center at Baxter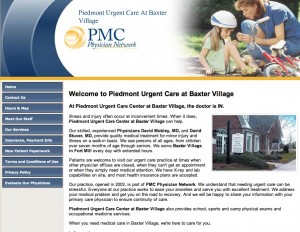 The skilled, experienced Physicians David Mobley MD and David Stuver MD provide quality walk-in medical treatment for minor injury and illness on a walk-in basis. They  serve Baxter Village in Fort Mill every day with extended hours.
Patients can visit the urgent care practice at times when other physician's offices are closed, when they can't get an appointment or when they simply need medical attention.  Open since 2002, the practice is part of PMC Physician Network. Everyone at the practice works to ease your anxieties and serve you with excellent treatment. They address your medical problem and get you on the road to recovery.
RevenFlo and the Baxter Urgent Care practice identified directing more quality traffic to the website as the primary objective of the internet marketing program.  We then established the following additional objectives:
increased presence in search engines
improved page layout and design
the integration and then the monthly use of free Analytics software
The monthly program we have in place allocates a pre-determined amount of hours towards areas that the doctors and RevenFlo have determined as the most effective and viable means of improving their web presence.  This allows for maximum benefit to the client within a fixed monthly cost.