Leadership Cases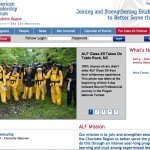 Breaking down barriers, getting out of a comfort zone, and learning how behavior helps or doesn't help others were all part of the experience and lessons learned during the five day outdoor experience.
Read More »
RevenFlo works with the K12 Superintendents of Education in the state of South Carolina to produce an online experience by which citizens all over the state can engage with a bold new vision being put forth for the future of education.
Read More »

RevenFlo Web Team executes a project for the Leadership Work Group to promote their 2011 Charlotte conference.
Read More »
Non-Profit

WP Menubar error: Menu 'Non-Profit' not found! Please create a menu named 'Non-Profit' and try again.