Web Video Boosts Internet Marketing Presence For Rock Hill Law Firm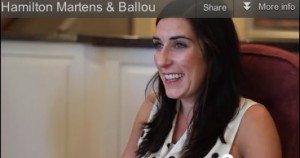 Overview
Hamilton Martens Ballou & Carroll, desires to increase their Internet Marketing presence. With a new website recently launched, they now have the ability to support a host of robust, Web Marketing tools. What they lacked was a working knowledge of which marketing tool would best help them achieve their objective. RevenFlo Web Team, with their comprehensive Internet Marketing expertise, presented Web Video as HMBC's Internet Marketing strategy of choice.
Results Delivered
Customized Story Line for Client's Web Video
Provided "A" & "B" Roll for Optimal Video Effects
Completed Relavant "Nutshell" Web Video for Client Review
Uploaded Approved Web Video as Key Marketing Tool to Client Website
Nature of the Problem
Like most prestigious law firms, Hamilton Martens Ballou & Carroll diligently built its reputation over several years. Their ongoing commitment is to provide the highest level of service to meet the legal needs of their clients. With roots securely planted in Rock Hill, SC, the firm is geographically poised to serve clients in both North and South Carolina. Word of mouth is always an excellent marketing tool and has spoken well of HMBC over the years. In an effort to reach a broader audience more effectively, the firm recently launched a new website capable of handling a variety of strategic marketing tools. The new site has been well received; however, it was underachieving its marketing ability.
Nature of the Solution
RevenFlo Videographers know why Web Video is the fastest growing Internet Marketing tool, and they use this knowledge everyday to create compelling "Nutshell" videos for their clients.
RevenFlo Web Team designed and launched a website for Hamilton Martens Ballou & Carroll that is capable of handling robust Internet Marketing tools. When HMBC pulled the trigger on expanding their Internet Marketing program, RevenFlo was ready to provide them with today's tool of choice, Web Video Marketing. The appeal of Web Video lies in its authenticity and simplicity. The videos often provide a "sneak peek" into the personalities, interactions and commitments that exist within an organization. In essence, they show the human side of a business. And it is precisely that element that the general population relates to. RevenFlo strongly believes that good business is all about relationship building and that is exactly what Web Video promotes.
Results
Hamilton Martens Ballou & Carroll has added a professional yet personal, also known as authentic, web video to their recently launch website.
HMBC has an Internet Marketing tool reflective of the the firm's professionalism and core values.
Web Video provides potential, new and current clients with an opportunity to encounter the firm's human side online.
HMBC's Web Video's is easily accessible on the firm's new Home Page.
HMBC now possesses an effective and engaging Internet Marketing tool.
Effective and engaging Internet Marketing tools are synonymous with relationship building, which is really the quentessential goal of marketing – to build client relations. RevenFlo has seen the effectiveness of Web Video as a strategic Internet Marketing tool and is please to offer this service. Building relationships is something RevenFlo strives for in every client interaction. Helping law firms like Hamilton Martens Ballou & Carroll achieve greater success in this area is a privilege.