The Local Pickup
Creating a Web Show and an Online Store
The Local Pickup is a web show about guitars. We (RevenFlo) produce the show, as well as manage a website for the initiative where we sell guitars online.
The project is a beautiful sandbox for creative marketing. Everyday, we learn something that we apply to the work we do for our clients.
Primary Audience
Lots of people in the US love guitars. Lots of those people buy guitars. Lots of those people buy guitars online. Lots of those people are looking for something different than the big brands – Fender, Gibson, Ibanez.  Lots of those people engage with content online about different kinds of guitars to learn more about them and decide what they may want to buy. We think these people will like our show and want to buy our guitars.
Secondary Audience
There are an increasing amount of guitar makers – from lone luthiers to small shops to small manufacturers – in the musical instrument manufacturing marketplace. We want to introduce them to our Primary Audience. For this access and endorsement, we receive products and marketing support. We also make our dealership arrangement with these companies, and they may even hire RevenFlo for their own marketing needs.
The name "The Local Pickup" is of course a play on words. Pickups are what make electric guitars work (transmitting the sound from the guitar through the chord and to the amp). The phrase "Local Pickup" is also used when buying guitars. It means you will come pick up your purchase, versus having it shipped to you. Plus, a local pickup is a place where you meet people locally. We want the local community aspect to be a part of the brand and culture of the show. As far as a visual brand, we wanted something fresh and happy and light.

YouTube Ad Monetization
We make money when people view our videos because we participate in YouTube's advertising platform. Thus, we will create great content, publish it on YouTube, promote it, and engage with our viewers all in order to increase viewership and, with it, revenue.
Retail Sales
Though we would love to have a physical retail store one day, currently we are only selling products through our online store. See our online retail sales model below.
Online Retail Sales Model

Social Media
We use social media to grow awareness of and engagement with our brand in the general local/regional marketplace as well as the national guitar-focused marketplace. We use Facebook and Instagram currently. Along with regular posting and engagement, we utilize the set of tools available from each platform – like Facebook Marketplace, Instagram Stories, and so on.
From social media, we send those interested to our website. This moves an individual into our marketing and sales funnel.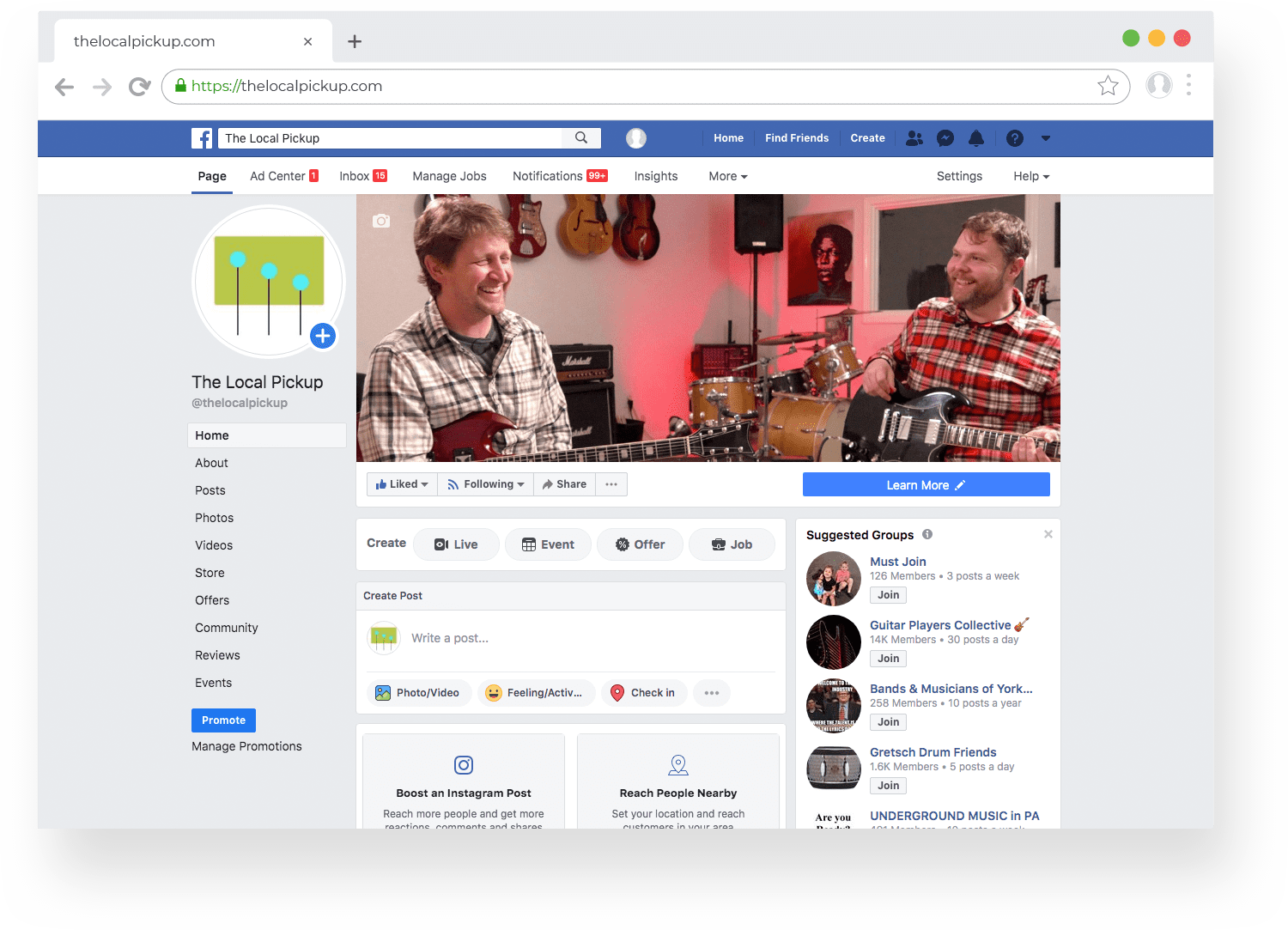 Website
On the website we hope to engage the visitors in the show and in the guitars. We have our episodes on the website, as well as a blog with in-depth articles on the different brands and guitars we encounter. We have a list of curated / highlighted brands as well.
From the website, we hope to move those who are interested to our online shop.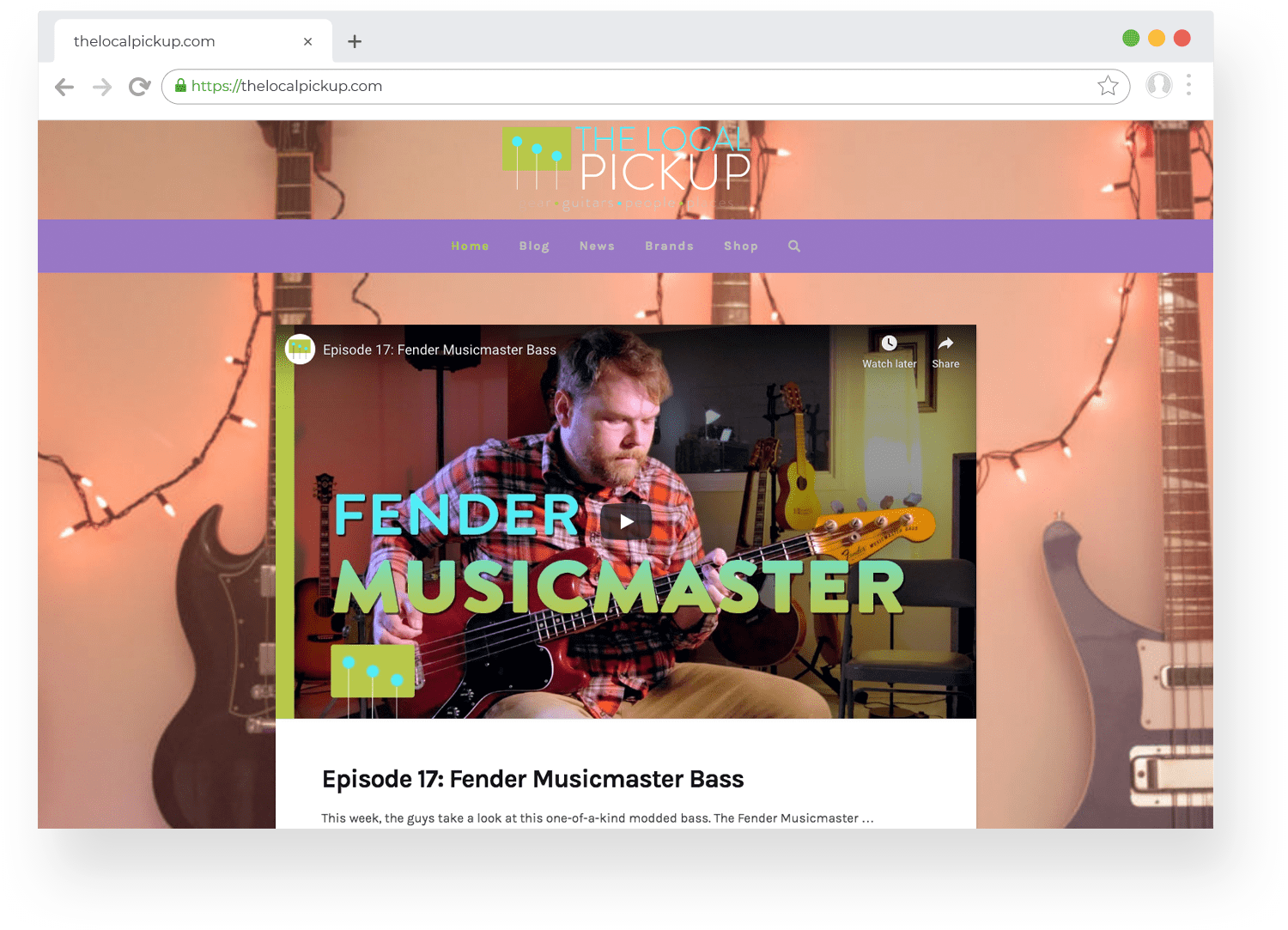 Shop
The shop is our online store. We currently use Reverb for our online sales and use their white-labeled Reverb Sites tool as our online store, integrated with our current WordPress website. The shop provides great filtering tools for the interested person and a great product viewing experience.
Once that person is interested in the product of choice, we hope they click the "Buy Now" button (so to speak) and move into the next phase of the funnel – the Point of Sale.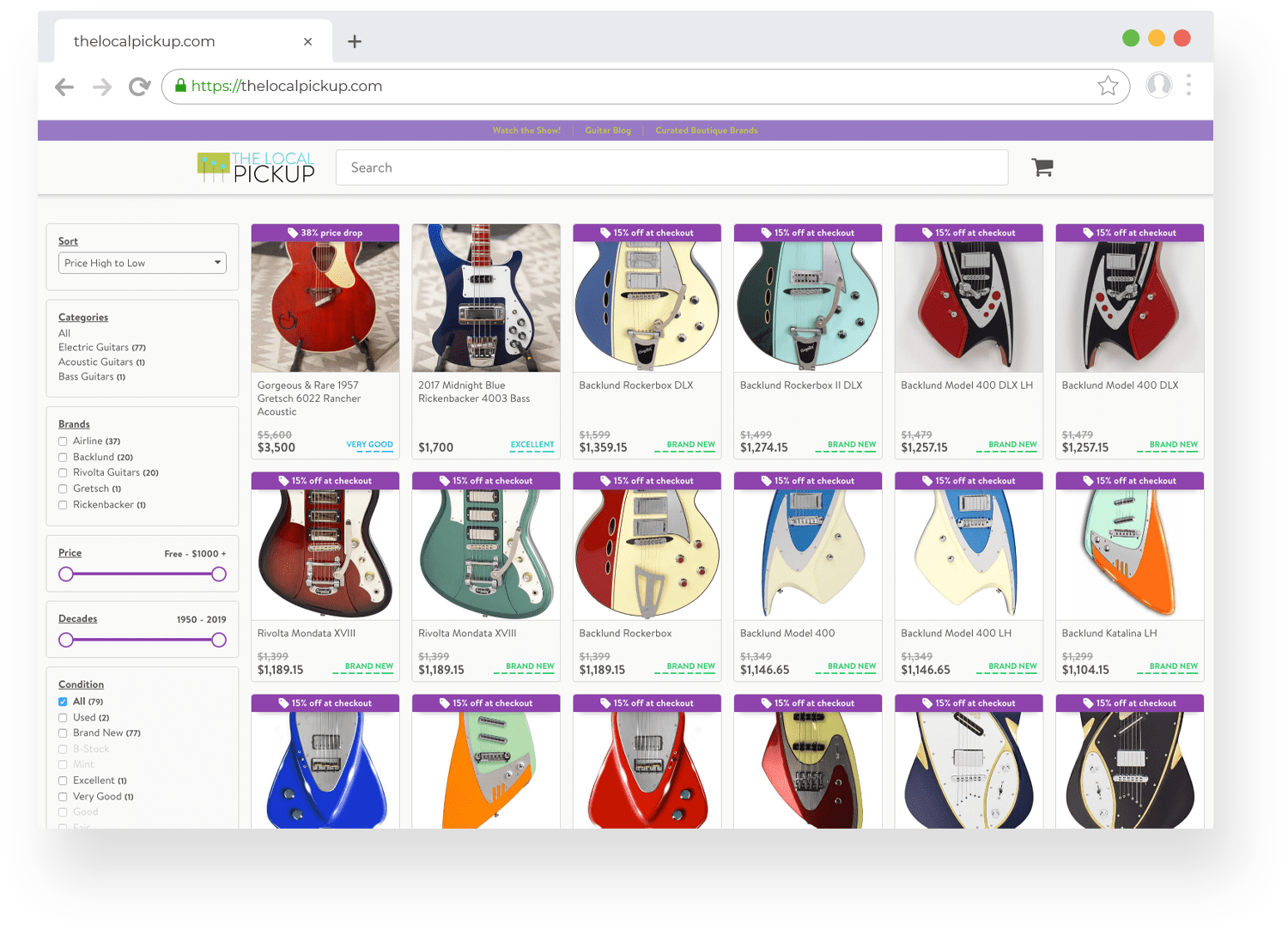 Point of Sale
The Point of Sale (POS) is when someone purchases something. In our case, the point of sale starts when the viewer clicks "Add to Cart" and it goes through the "Thank you for your purchase!" screen after the completed transaction. We use Reverb for our e-commerce platform. It provides all of the necessary functionality, while allowing our products to be part of their enormous marketplace of guitar buyers and sellers online. Regardless of technologies though, we have to have a product that people want to buy and sell it at a price that people will pay.
From the sell, we move into the delivery phase.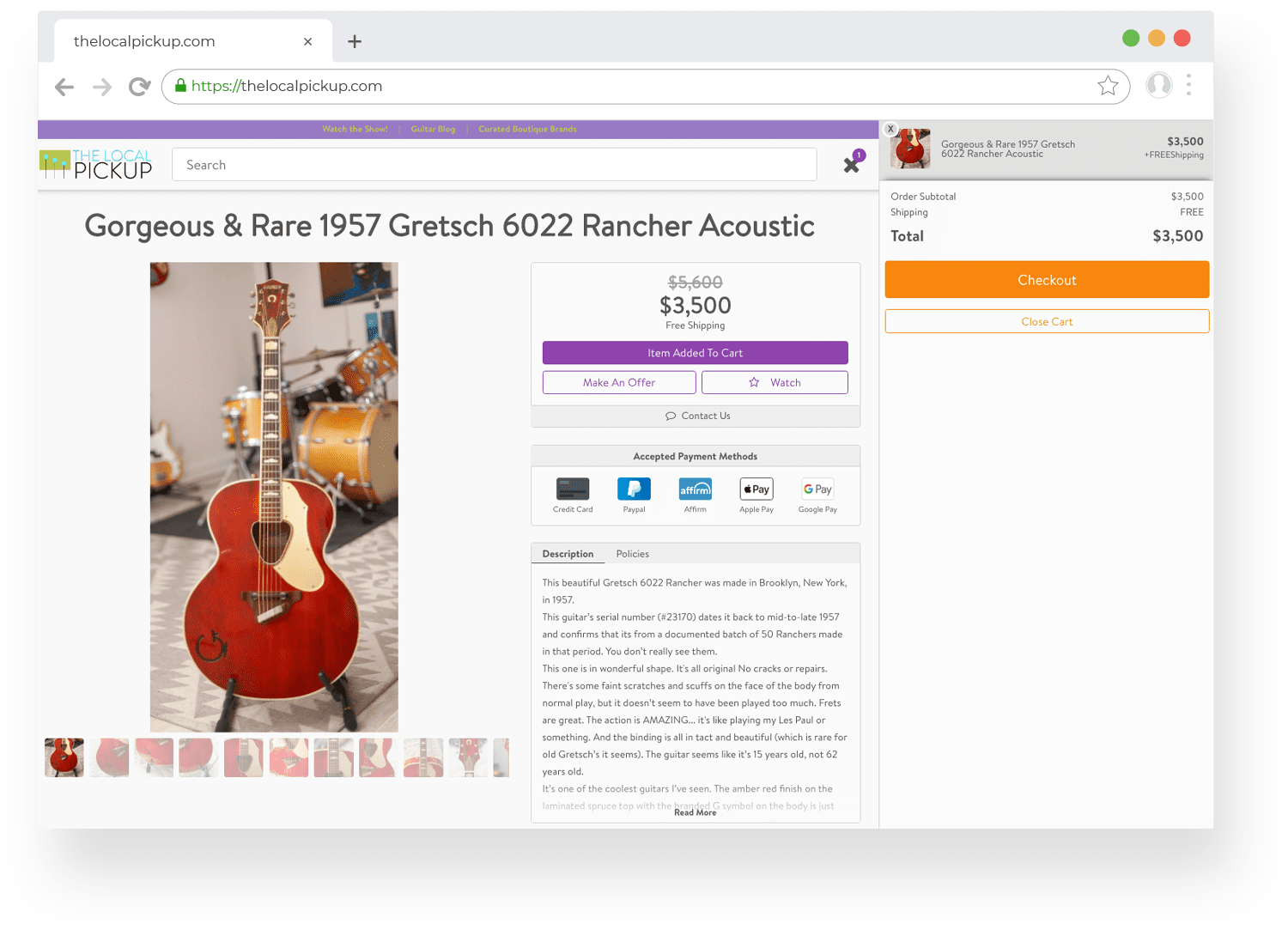 Delivery
The Delivery is about getting the product to the buyer and creating a positive experience for the buyer in the process. This includes clear notifications of shipping and arrival, as well as any bonus goodies for the buyer. It also includes customer service for any issues that may arise. We ship the used guitars we sell, and we use drop-shipping with our manufacturer partners for the new items. Also, the Reverb e-commerce platform provides shipping tools for the customer allowing them to track their package and such.
After delivery, we move the buyer into our customer group for continued nurturing.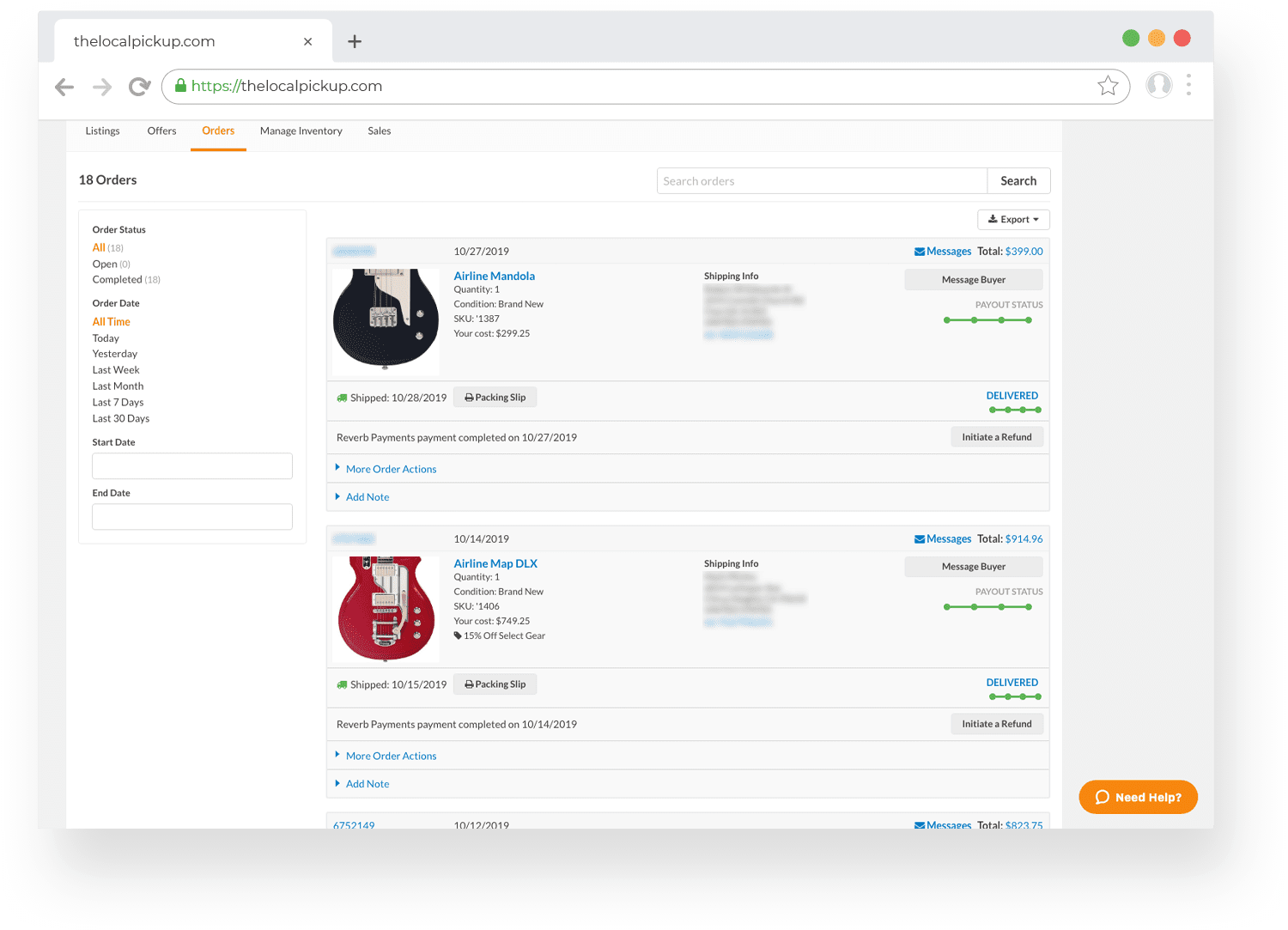 Nurture
After a customer buys a guitar from us, we want to stay in touch with them. We want to provide them information that they will appreciate and enjoy. Email marketing is our main tool for such nurturing, but one-on-one customer service communications is also not uncommon. We think putting energy into our existing customers is a great way to spend our energy.
We hope to keep these customers engaged with us in social media to stay part of our cycle and to help market and advocate for us as they see fit to do so.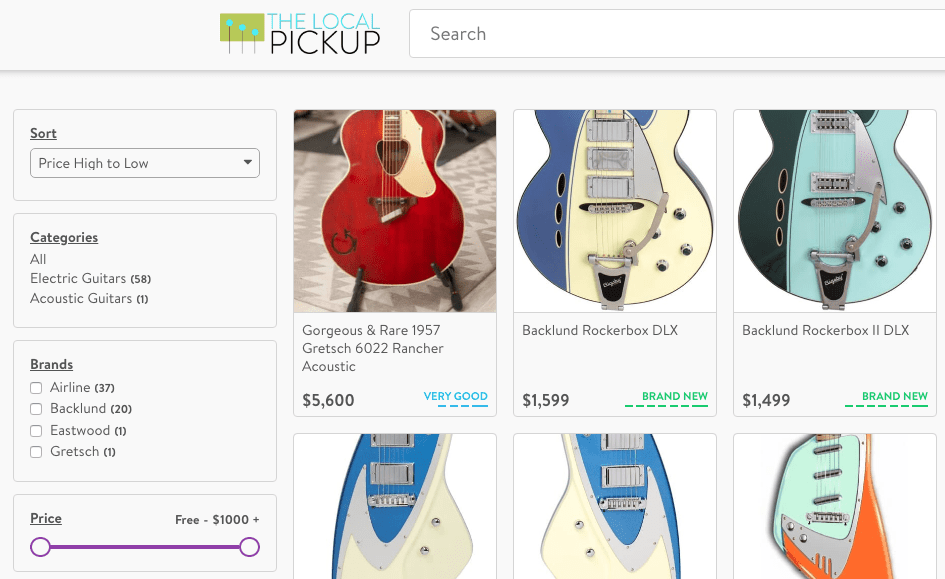 Highlighted Guitar: Backlund Rockerbox
Backlund guitars are new classics. Iconic "retro-futuristic" designs that hark back to another era, but also hint at the future. Many are familiar with John Backlund's fantastic guitar designs, but very few have ever had the opportunity to own one – until now. John has partnered with Eastwood Guitars to bring these fantastic designs to life. Since launching this new line of Backlund guitars, the Rockerbox quickly became one of the most anticipated… and it's easy to see why!
Sales
Sales starts with your value proposition. In other words, do you really have something that somebody wants and are you selling it for a price at which they will buy it? If so, then the tools are out there for easy e-commerce deployment and website integrations.
Marketing
The project takes lots of marketing activity to maintain, with the publishing and managing of the content and the posting on and managing the individual social channels.
Content Production
A project like The Local Pickup takes a huge investment in content production. Not only does the show need to be produced, but all of the supporting marketing media as well.
Customer Service
Any successful sales initiative must be anchored in excellent customer service. The customer can always get the product from somebody else.