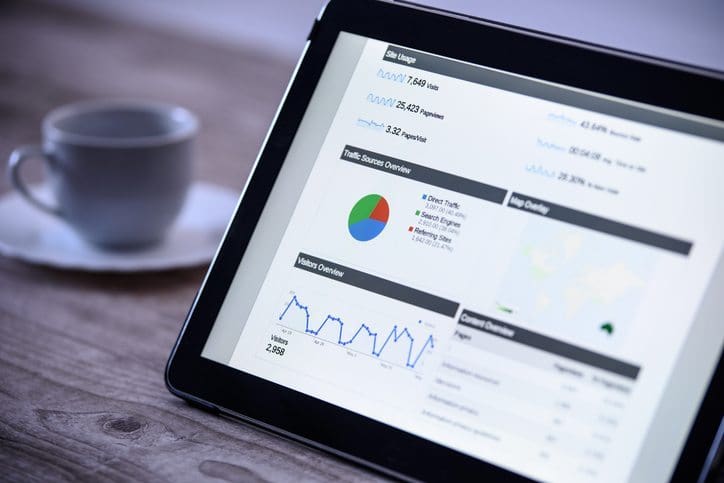 Why Analytics Should Be Driving Your Website Strategy
Google Analytics is an invaluable tool for us when deciding how to best meet a client's goals. It tells us things like which pages users are visiting and which ones they aren't, where they're coming from, how long they're staying, and so much more.
But figuring out how to look at Google Analytics can be daunting. There's simply too much information to be looking at everything all the time. Customizing the dashboard and reporting feature can make it easy for you to see the information most pertinent to your business, but the bigger question to answer is – what should I be measuring? That's what we'll try to help with here.
1. Which pages are users visiting?
Make these pages a priority, even if they aren't the ones you wanted people to visit in the first place. Traffic patterns are difficult to change, so lean into the flow you notice on Analytics. These should be impressive landing pages with clear and concise information. Imagine someone is going to look at only this page – would they get a good sense of who you are from this page? Would they be given an easy way to take the next step, whatever that may be?
2. How long are people staying?
Time on site and bounce rate are 2 things to look at here. A high bounce rate indicates that people are arriving at your site and immediately leaving without engaging. That means, for whatever reason, their initial perception of your site is that it's not going to help them find what they need. Another thing to look at is what pages people are exiting from. For example, if you notice your blog page is one of your highest "exit pages," that means users aren't engaging with the blog content. This is an opportunity to dig deeper into what users are looking for when they go to your website and do your best to provide that content. They've clicked on your blog, so they must want more information from you. Give the people what they want!
3. What queries are getting people to your site?
Is your site providing the information they're asking for? More importantly, should it be? If people are finding your site using keywords not relevant to your product or service, you don't need to arbitrarily insert copy catering to them. However, if you are consistently getting a query on a service you do provide, you want to ensure that once those people arrive at your site, they get the information they need. For example, we're an internet marketing company that does a wide range of services like website design, social media, video marketing, and more. We noticed that a lot of searches were coming from people looking for photographers in the area, so we updated our services pages to include Photography as a service we provide.
4. How much of your traffic is coming from mobile?
About 50% of online traffic comes from mobile devices. If your site is not mobile-responsive, you may be missing out on potential leads. Not only does Google give preference to sites that are mobile-responsive, but users do as well. If they land on a home page that isn't responsive or doesn't even load properly, they likely won't go any further towards making a conversion.
5. How many conversions do you have?
If the number is low, maybe you aren't giving people clear enough ways to contact you whether that's a contact form or easy-to-find phone numbers and email addresses. Or maybe a conversion for you is having users take an action on your site like downloading a document or making a purchase. If that's the case, users may need a little more help to be guided through that process.
A few other things to consider:
How fast is your site? People won't keep returning to a slow site.
Where does your traffic come from? Social, email marketing, referrals, organic search, etc. Maybe you should funnel more resources into the channels that work or abandon the ones that don't.
Demographics  – If there's a common age, gender, or location of most of your visitors, this can help you develop more thoughtful targeting strategies for paid advertising. It can also let you know if you need to change your current aesthetic and campaign to better appeal to the people interested in your company.
Of course, knowing how your site is performing is only half the battle, the other half is figuring out how to improve it. That's where RevenFlo can come in. We can work with your team to develop a strategy for helping you succeed online, then our marketing, design, and development teams can help implement that strategy. Whether that's a maintenance program that keeps your site up-to-date and running efficiently, a marketing program that involves regular SEO audits, or a redesign of your homepage or full website.