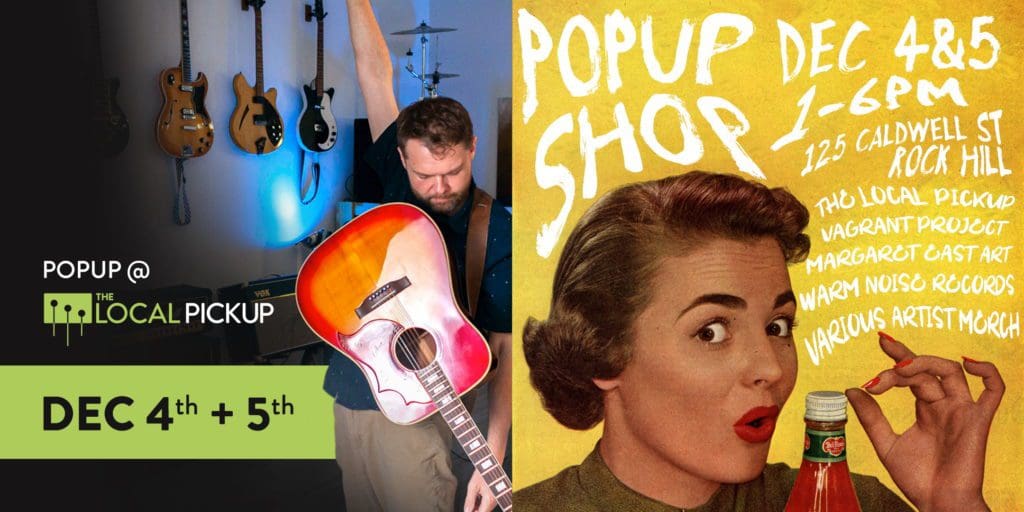 The Local Pickup has been cohabitating with RevenFlo for quite some time now. With our team getting more accustomed to working from home, we felt that turning our front office space into a guitar showroom was one of the best uses of the space. This coming weekend, The Local Pickup is fully utilizing the space by holding a popup where people enjoying ChristmasVille and all the nearby live music can "pop" in and browse through guitars, music gear, art, and merch. Come out, enjoy some music by the RevenTeam, and swing by the popup!
---
From The Local Pickup:
Details
Dec 4&5 | 1-6pm
125 Caldwell St, Rock Hill, SC
Featuring
The Local Pickup
Vagrant Project
Margaret East Art
Warm Noise Records
Various Artist Merch
Live Music Both Days
On Saturday (all day Dec 4), Mike Gentry and Christmasville are putting on a show that will be during the day and last well into the night. It starts outside on the loading dock of the Gettys building. Then moves inside to the old historic Courtroom. Lots of bands, includes Micah's band (Soft Neon).
On Sunday (6-9pm Dec 5), Skydriver (Jason's band) will play at Rock Hill Brewing Co (right next door). Chris will do an opening acoustic set.